"The more that you read, the more things you will know. The more you learn, the more places you'll go."— Dr. Seuss, 'I Can Read With My Eyes Shut!'
Our approach to Reading and Phonics
Reading is at the heart of our curriculum. At Dorothy Barley Junior Academy, we truly believe that reading provides a ticket to access an enriching curriculum and a bright and successful future.
Within the Reading National Curriculum there are two main foci; 'decoding' words and being able to comprehend and understand what is being read.
Programmes used to support phonics at Dorothy Barley Junior Academy are:
Destination Reader
Bug Club (home-learning support)
Letters and Sounds
Fresh Start
Pupils are also given the opportunity to take part in Letters and Sound and Fresh Start depending on their age and reading fluency.
At DBJA we are a Destination Reader school
The principles of Destination Reader
Enable quality experience
Promote enjoyment
Increase reading mileage
Build firm foundations
Develop thinking and understanding
Make talk central
Why we use Destination Reader?
To foster a life-long love of reading.
To develop a consistent approach to the teaching of reading across KS2.
To read for purpose across the curriculum
To have a consistent approach to developing vocabulary
To provide a curriculum in line with the requirements of the revised National Curriculum
To provide a robust assessment approach, centred on formative assessment.
Word reading and comprehension
At DBJA, children access 45 minute whole class daily guided reading sessions using a whole class and group books/texts.
Monday to Thursday the children will read either a class age- appropriate book or an individual age appropriate book. During these sessions, teachers will read with the children completing a running reading record for each child. Pupils will be given opportunities to listen to, read and discuss a wide range of fiction, poetry, plays and non-fiction.
Throughout these lessons, there is a focus on a key reading strand (inferring, clarifying, questioning, summarising, predicting, evaluating or making connections). When they are secure with these strands, the children will combine the reading strands.
On Fridays, the children will complete a Big Picture lesson, which focuses on comprehension skills with seen or unseen books and texts. The teacher will model answering the four question types using the CLEAR (Code, Clues, Locate, Explore, Answer, Re-read) code.
Assessment of Reading
Children are assessed weekly through Big Picture lessons and half-termly with PiXL and PiRA tests.
We also test the children's reading speed termly to assess and improve their reading pace, stamina and fluency. Teacher assessment is used to provide a colour band for each child to ensure they are reading ability levelled books.
What is Letters and Sounds?
Letters and Sounds is a programme designed to support children in their phonic knowledge. Structured lessons secure children's phonic knowledge, focussing on their blending and segmenting skills and providing finely-levelled 100% decodable readers for children to practice and apply their new skills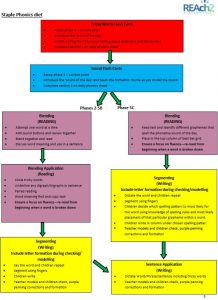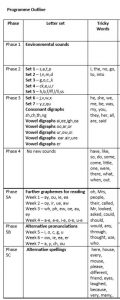 What is Fresh Start?
Fresh Start is a teaching programme that allows children who may be working behind their peers to catch up. They engage with age-appropriate anthologies and embed learning through partner practice. Children are assessed regularly to ensure they make good progress.